LOSIN' KIND
Home demo version
---
My name is Frank Davis, driver Dixie 109
I was out on Highway 17, just south of the Camden Line
It was down there in the heart of Wilsonville where I met my fate
She was standing outside the bar room said she was waiting for a date
But I knew that that was just a line
And I knew I was messing with a losing kind

Well I knew what we were both doing and I knew that you can't win
But when the light turned green, I reached across the seat, popped the lock and she slid in
She said she liked Mexican music, she knew a place if I had the time
Well we had a few drinks and we danced a while, I pulled her close, she didn't mind
And what I knew kinda slipped my mind
And I couldn't resist her messing with the losing kind

Well we drove around in my Buick, getting drunk and having fun
Well we ended up at this Best Western out on Highway 101
It was around 3 A.M. we went out to this empty little roadside bar
It was there the cash register was open, it was there I hit that guy too hard
But I knew when I hit him for the second time
That one attracts the other when you're the losing kind

Well I grabbed her hand to get out of there and I felt like I was gonna be sick
And half hour later the sleet started coming down and that highway got pretty slick
I seen some lights in my rearview mirror, I guess I panicked and I gave her a gun
Well then I wrapped us around a telephone pole south on Highway 101
Well she just stumbled out onto the bank and sat down in a pout
Well I kicked out the driver side window but buddy when I got out
Well all I had to greet me was a highway patrolman's .45
He looked at the wreck and then he said "Son you're lucky to be alive"
Well sir I'll think that one over if you don't mind
Now luck ain't much good to you when it's the losing kind
---
Info
LOSIN' KIND is a song written by Bruce Springsteen who recorded it in studio in 1982 and 1983. The song has not yet been officially released. The above lyrics are for a home demo version of LOSIN' KIND recorded in late December 1981 or early January 1982.
The song is also known under the titles "The Losin' Kind" and "The Answer", the latter being the song's work-in-progress title mostly used for the early home demo version of the song. In his notes to Jon Landau, Springsteen wrote: "Searched + searched for a better title, spent many hours on this task but no good. I like the verses but I can't seem to find a better punch line. Kind of like a James M. Cain story. Could be done with more of a band arrangement."
Studio Recording
According to Sony's database of Springsteen recording sessions, LOSIN' KIND was recorded on 30 Apr 1982 at The Power Station in New York City, NY, and on 12 Mar 1983 at Thrill Hill West, Springsteen's home studio in Los Angeles, CA. None of these studio takes of LOSIN' KIND has surfaced among collectors.
Two home demo takes of LOSIN' KIND are in circulation among collectors. The first (the early home demo version) is an unfinished work-in-progress take cut at Springsteen's home in Colts Neck, NJ, sometime between mid-September and December 1981. The second (from which the above lyrics are transcribed) is a finished take cut in late December 1981 or early January 1982 at Springsteen's home in Colts Neck, NJ, and included on the Nebraska demo tape of 03 Jan 1982 (see the below section for more details). Actually three takes were recorded between late December 1981 and early January 1982 but only one (take #2) was included on the Nebraska demo tape. The remaining two takes have not surfaced among collectors.
The Nebraska Demo Tape
Following The River Tour, Bruce Springsteen and The E Street Band were scheduled to start recording the next album in New York City in February 1982. Springsteen felt that the upcoming band studio sessions would progress faster than they had for his previous three albums if he first records finished demos and demonstrates them to the band. He decided to record multi-channel, professional sounding, finished demos of some songs he had written during the period.
To achieve his goal, Springsteen asked his guitar technician, Mike Batlan, in December 1981 to set up a recording facility in a spare room at his home in Colts Neck, NJ. Some modification work was done to the room making it more receptive to achieving a decent sound. Batlan purchased a Teac Tascom Series 144 4-track cassette recorder, two Shure SM57 microphones, and two microphone stands. The sound was mixed through an old Gibson Echoplex and an old Panasonic boom box acted as the mix-down deck.
The four-track cassette recorder that Bruce Springsteen used to record his famous Nebraska demo tape of January 1982
Batlan told journalist David McGee, "Springsteen began organizing his work for Nebraska during the first week of December 1981 – that's when I was directed to buy the four-track... actual recording began on 17 or 18 December and ended around January 3." Some of the songs were recorded two or three times in slightly different arrangements. A cassette tape was compiled and edited at the end of the sessions, likely on 03 Jan 1982. It contained fourteen songs recorded during these late December 1981 / early January 1982 sessions plus what is almost certainly a live recording of a fifteenth song, JOHNNY BYE-BYE. It also included seven alternate takes and five alternate mixes. The first person to listen to the tape was Jon Landau. Two or three months later, Springsteen recorded two additional songs (MY FATHER'S HOUSE and THE BIG PAYBACK) at home on the same equipment – thus making a total of 17 different songs.
Bootleg Releases
This home demo version of LOSIN' KIND can be found on several bootlegs including The Lost Masters Vol. 1 (Labour Of Love) [track 07].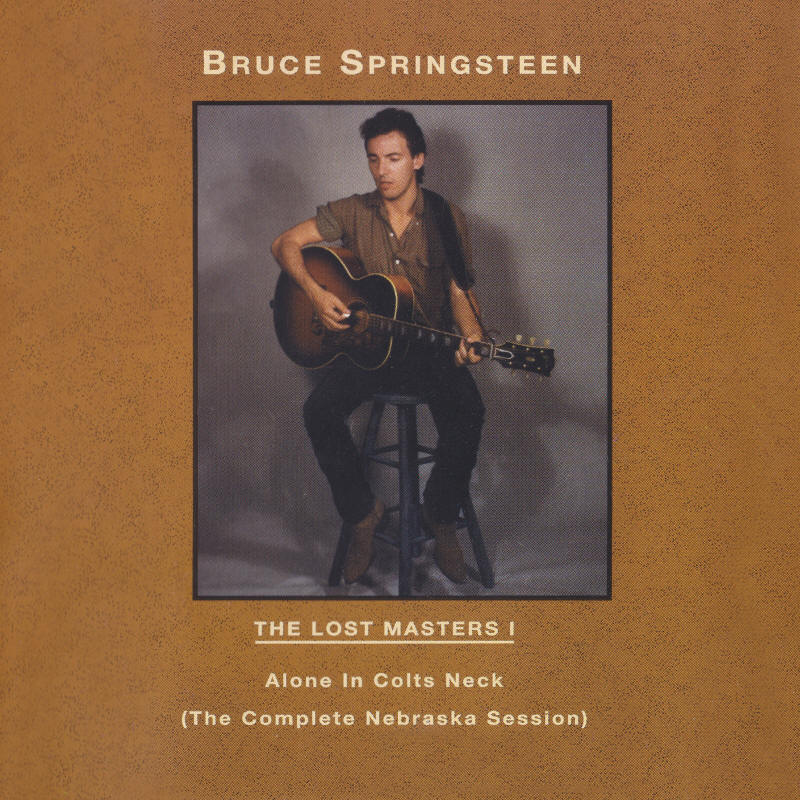 Bruce Springsteen -- The Lost Masters Vol. 1 (Labour Of Love)
Live History
As far as it's known, Bruce Springsteen has never performed LOSIN' KIND live.
Covers
As far as it's known, no artist has recorded and released Bruce Springsteen's LOSIN' KIND.
Credits / References
Thanks Jake (ol'catfishinthelake at BTX and Greasy Lake) for the lyrics help. Some of the above recording info is taken from Brucebase.
Available Versions
List of available versions of LOSIN' KIND on this website:
LOSIN' KIND [Home demo version]
LOSIN' KIND [Early home demo version]
---
Page last updated: 17 Dec 2015