SO MUCH STYLE
---
Lyrics not available
---
Info
SO MUCH STYLE is a song probably written by Bruce Springsteen. He performed it live with The Bruce Springsteen Band in mid-1971.
Live History
SO MUCH STYLE is known to have been performed at least once in Bruce Springsteen's early years (pre-October 1972). Very little is known about shows from this early period, and therefore, the song may have been played on some more dates.
22 or 29 Jul 1971 at D'Scene, South Amboy, NJ

(with The Bruce Springsteen Band)
An early Bruce Springsteen handwritten song list (see scan below) is recalled with some degree of confidence by one of The Bruce Springsteen Band members as emanating from one of the band's July 1971 bookings at D'Scene in South Amboy, NJ. The Bruce Springsteen Band made two consecutive Thursday evening appearances at the club, on 22 and 29 July 1971. They headlined two gigs each night, one at 9:00 p.m. and one at 11:30 p.m., with Sunny Jim opening. The handwritten song list was auctioned on the It's Only Rock 'N Roll online auction website in June 2006. The bid started at $500.00 and reached $2221.44. The document contains a list of 22 songs, including SO MUCH STYLE. This is not a setlist, but many (or possibly all) of the listed songs must have been performed at the 22 and 29 Jul 1971 shows at D'Scene.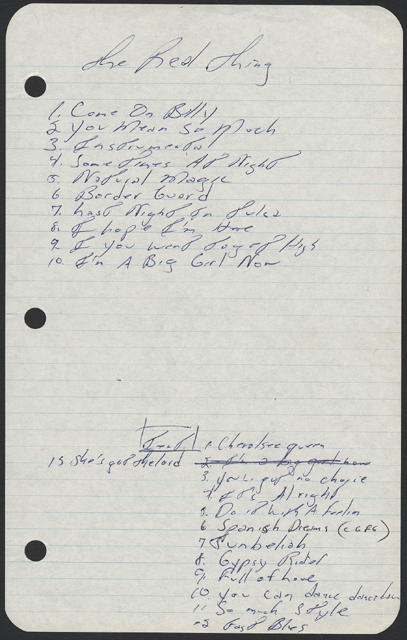 Bruce Springsteen handwritten song list from the July 1971 shows at D'Scene, South Amboy, NJ
Covers
As far as it's known, no artist has recorded and released Bruce Springsteen's SO MUCH STYLE.
References
Some of the above info about the live performances is taken from Brucebase.
Request
If you have audio for SO MUCH STYLE, or at least the lyrics or any additional information, please contact me via the below form or by email: . You will be credited (unless you prefer not to). Thanks in advance.
Available Versions
List of available versions of SO MUCH STYLE on this website:
SO MUCH STYLE
---
Page last updated: 25 Jan 2017