THE BALLAD OF JESSE JAMES
Official studio version
---
Well don't you wanna climb a mountain
Yeah don't you wanna ride the river
Drink from a magic fountain
Give your woman all the love that you can give her

Well don't you wanna be an outlaw
Don't you wanna ride the range
Don't you wanna be an outlaw, children
Just like Jesse, like Jesse James, just like Jesse boy

Well now don't you wanna swim the ocean
Yeah don't you wanna climb the highest tree
Drink some of Mama's love potion
Kiss your woman till she just can't see

Don't you wanna be an outlaw, yeah baby
Just a poor boy caught on the skids
Don't you wanna be an outlaw, children
Just like Billy, just like Billy the Kid

Well now Billy he was a bad boy
He won the Wild West
By the year of 21, had many notches on his gun
But someone laid him to an early rest

Well don't you wanna climb a mountain
Yeah don't you wanna ride the river
Drink from a magic fountain
Give your woman all the love that you can give her

Don't you wanna be an outlaw
Don't you wanna ride the range
Don't you wanna be an outlaw, children
Just like Jesse

[Guitar solo]

Yeah Jesse he was a bad boy
He roamed the wild west
And many notches on his gun as the year of 21
Someone laid him to an early rest
All right, baby

Don't you wanna climb a mountain
Yeah, don't you wanna ride the river
Drink from a magic fountain
Give your woman all the love that you can give her
Hey!

Don't you wanna be an outlaw
Don't you wanna ride the range
Don't you wanna be an outlaw, children
Just, just like Jesse
Aah, oh my soul, like Jesse James

Well don't you wanna be an outlaw
Don't you wanna be an outlaw
Whoa whoa whoa whoa, whoa whoa whoa whoa
Just like Jesse, just like Jesse, just like Jesse
Bring it on man, bring it on man, bring on
Whoa whoa whoa whoa
---
Info
THE BALLAD OF JESSE JAMES is a song written by Bruce Springsteen and released on Springsteen's Chapter And Verse compilation album in 2016. The above lyrics (minus the parts in bold) are for the official studio version of THE BALLAD OF JESSE JAMES as released in 2016. The song is also known under the title "Don't You Want To Be An Outlaw".
The song is edited on Chapter And Verse; the parts in bold are edited out. It is complete on the bootleg releases.
This version of THE BALLAD OF JESSE JAMES is actually from a Bruce Springsteen Band studio rehearsal that took place in early 1972 at Challenger Eastern Surfboards in Highlands, NJ. See the below section for more details.
For its release on Chapter And Verse, THE BALLAD OF JESSE JAMES was mastered by Bob Ludwig at Gateway Mastering Studios in Portland, ME. According to the album's credits, the song was produced by Bruce Springsteen and recorded by by Carl "Tinker" West and the band line-up is Bruce Springsteen on vocal and guitar, Vini Lopez on drums, David Sancious on piano and organ, Garry Tallent on bass, and Steven Van Zandt on guitar and backing vocals.
Challenger Eastern Surfboards Rehearsals
Bruce Springsteen wrote numerous songs in 1971 but did not record any material in a professional recording studio during that period. However, studio rehearsal sessions were frequently conducted at the Challenger Eastern Surfboards factory in Highlands, NJ, in 1971 and early 1972. The primary purpose of the sessions was not to make audio recordings, but to prepare for live shows. So only a fraction of this extensive body of rehearsal sessions was ever recorded, and when they were, it is an unfortunate reality that the reel-to-reel tapes made at Challenger Eastern were often erased and reused to record live shows.
Fortunately, high-quality audio of one Challenger East session is known to exist – a continuous 8-song / 83-minute segment of a rehearsal that took place in early 1972 at Challenger Eastern Surfboard. The recording was engineered and produced by Carl "Tinker" West. The session line-up was Bruce Springsteen, Steve Van Zandt, David Sancious, Garry Tallent, and Vini Lopez.
IT'S ALL OVER NOW, BABY BLUE
FUNK SONG
DO IT WITH A FEELING

[a partial take and a full take]
The recording is on three reel-to-reel tapes. The first two, which contains the first six songs listed above, is in circulation among collectors. The third reel, which contains the last two songs listed above, is no in circulation and remains in the hands of a private collector. This third tape may have been recorded before the other two.
The original tapes note the audio as emanating from 1972 but do not mention the exact date. However, according to Brucebase, this session is most definitely from very early in the year, prior to Springsteen's March 1972 contract signing with Mike Appel and Jim Cretecos. Bearing in mind that The Bruce Springsteen Band had been idle for over a month due to Springsteen's trip to California, it's likely that this rehearsal took place in order to prepare for the numerous shows scheduled for late January thru early March. Indeed, the arrangements of these songs are remarkably similar to those that have surfaced from live gigs during this specific period. Brucebase lists the recording under its 14 Mar 1972 entry.
In addition to 76 minutes of music, the recording contains nearly 7 minutes of between-song studio chat, much of it between Springsteen and Tinker West. The discussions seem to indicate that the primary intent of the session is for rehearsing, not recording, with the recording merely being done because West wanted to test some new recording equipment. The sound quality is uniformly excellent. Although all the audio is from the same day, it is evident from the discussions that the rehearsals had been going on for some hours before the recording started. It should be noted that this is not Challenger's more famous Wanamassa, NJ factory location, the one that Springsteen had lived at and rehearsed in during the 1969-1971 Child and Steel Mill era. Tinker West had relocated that factory to Highlands, NJ in mid-1971 and had then constructed a more professional rehearsal room (which included a control room like a regular studio) for the various bands he managed.
Chapter And Verse
Chapter And Verse is a Bruce Springsteen compilation album released on Columbia Records on 23 Sep 2016 in the U.S. It was officially announced on 28 Jul 2016. The album is an audio companion to Springsteen's autobiography Born To Run, which was published four days later, on 27 Sep 2016, by Simon & Schuster.
The album is a career retrospective consisting of 18 tracks. It spans almost half a century of Springsteen's career, from as early as 1966. According to the press release, Springsteen selected the songs to reflect the themes and sections of the autobiography. The first five tracks have not been previously released.
Tracks 1 and 2 are from The Castiles era, track 3 is from the Steel Mill era, and track 4 is from The Bruce Springsteen Band era. Tracks 5 and 6 are Springsteen solo, from around the time he signed his record deal with CBS. The remaining 12 tracks are compiled from 12 different Bruce Springsteen studio albums, from 1973 to 2012. All song were written by Bruce Springsteen, except tracks 1 (co-written by Bruce Springsteen and George Theiss) and track 2 (written by Willie Dixon). Track 2 is only song on the album recorded live.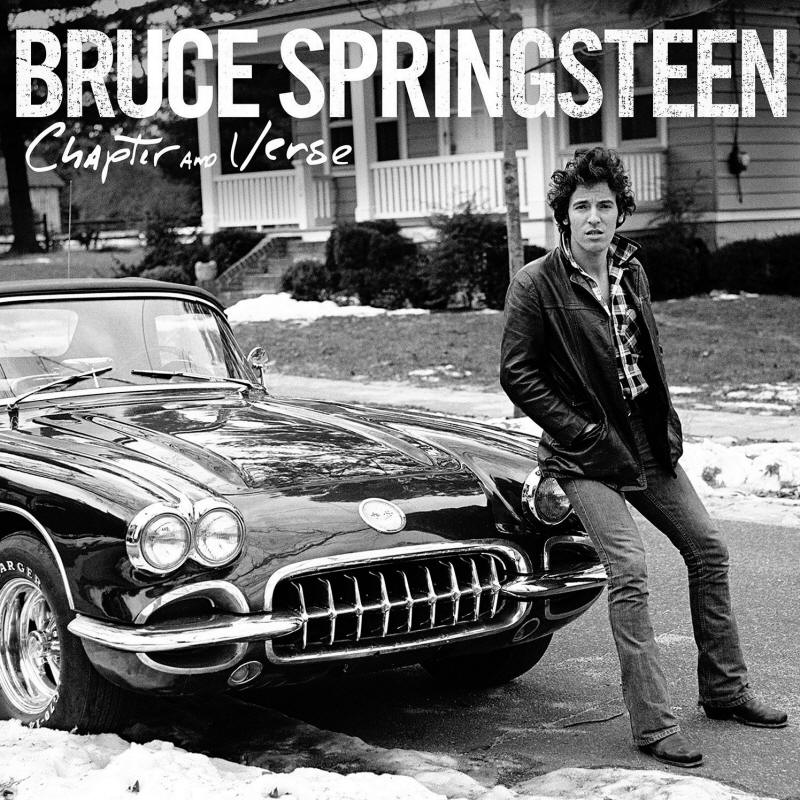 Bruce Springsteen -- Chapter And Verse
Chapter And Verse is available as a single-disc CD and as a double-disc LP, as well as digital download and streaming.
Bootleg Releases
Prior to its release on Chapter And Verse, this official studio version of THE BALLAD OF JESSE JAMES appeared on several bootlegs, including Deep Down In The Vaults (E. St. Records) [disc 1, track 04].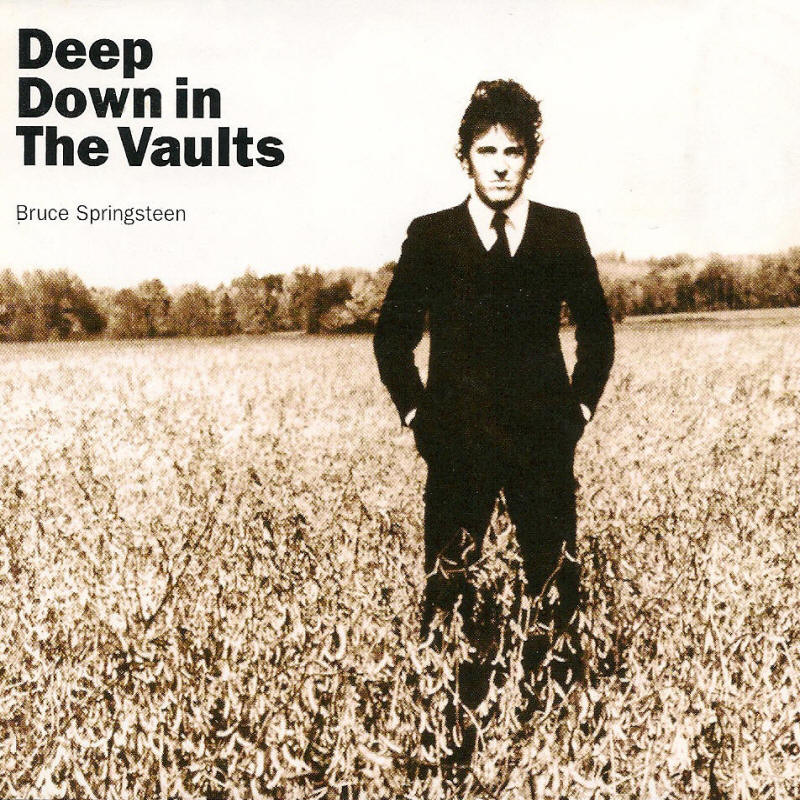 Bruce Springsteen -- Deep Down In The Vaults (E. St. Records)
Live History
THE BALLAD OF JESSE JAMES is known to have been performed at least 3 times in Bruce Springsteen's early years (pre-October 1972). Very little is known about shows from this early period, and therefore, the song must have been played on some more dates.
01 Sep 1971 at Garfield Park, Long Branch, NJ

(with The Bruce Springsteen Band)

30 Oct 1971 at Virginia Commonwealth University, Richmond, VA

(with The Bruce Springsteen Band)

17 Dec 1971 at Rutgers University, New Brunswick, NJ

(with The Bruce Springsteen Band)
Covers
As far as it's known, no artist has recorded and released Bruce Springsteen's THE BALLAD OF JESSE JAMES.
Credits / References
Thanks Ugo Coppola for the lyrics corrections.
Most of the above info about the Challenger Eastern Surfboards rehearsals and the song's live history is taken from Brucebase.
Request
The above lyrics may not be 100% complete or correct. If you can help, please contact me via the below form or by email: . You will be credited. Thanks in advance.
Available Versions
List of available versions of THE BALLAD OF JESSE JAMES on this website:
THE BALLAD OF JESSE JAMES [Official studio version]
---
Page last updated: 16 Jul 2017