LOVE CYCLE
Handwritten lyrics
---
The listless feather drifts upon the wind
Casts a wounded refuge from the nights severed wing,
Down, down, tumbling down,
Unto your hand she lies,
To kiss the blessed skin and then to die
In the morning when I rise

The silence of dawn is broken by a new child's cry
A young girl slowly smiles as the sun breaks the sky
I find myself sinking into her gentle eyes
And my blood flows so wild
Through the rivers of her mind,
In the morning when I rise

A morning star glows with kindness
As she brings the child down by the sea
To be christened
Amidst the onrushing tide
Tiny crystals of salt water
Trickle down the new born face
And I stand beside her
And taste the sweetened taste
Of a love we had one young sea morning

Twisted roots of a torn oak tree
Bend and wind together as you and me
Then break upon the earth
Molded tightly into one to receive [sic]
The honeyed kisses of the golden sun
Remember when we were young

Remember when we were young
When we were young
Through the park we would run
When we were young
Just to sit and watch the day
When we were young
Just in time to maybe catch the circus parade
When we were young

Come into my circus tent
See the lions and elephants
watch the silly clowns at play
Come at night and stay all day

See the lion tamer crack the sky
With the tip of his lash
Wach [sic] the man on the flying trapeze
As he swings so gracefully undaunted

Standing in an open doorway
Hands reaching out to touch the rain
Forever, that have been weary
Now begin to change
Knowing things shall never be the same
Tainted blue coolness of a misty night
As we stood under the sheltering tree
Everything seemed so right
With your smile
I became lost in love and life

And within the heart of a grandfather clock
Gray heired [sic] children sease [sic] to sing
The worn out roking [sic] chair
And the raven flys [sic] for the morning so tired

We sat with dreams of the sun
When we were young we sang the songs
That had to be sung when we were young
We did the things that had to be done
When we were young
Worked and loved together as one when we were one
Remember when we were young
---
Info
LOVE CYCLE is an early Bruce Springsteen poem most probably dating from the same period as the two poems he submitted to the literary magazine of Ocean County College, MY LADY and SEASCAPE. The submissions for that magazine had to be in by early December 1968. It was published in late January 1969 when the students returned for the start of the second semester. There was another, identical print run of the magazine in April or May 1969.
The above lyrics are transcribed from a 1968 Bruce Springsteen notebook. The opening three words for LOVE CYCLE, "The Listless feather", were also the opening words for MY LADY.
Apparently, when Springsteen finished writing the initially two-page poem, and when he was revising it (most probably the same day, or same hour), he had the idea of expanding the "circus" theme that appears in the second stanza in the second page ("...catch the circus parade..."). He draws a line (see scans below) to separate that stanza from the one after ("We sat with dreams..."), as to indicate that new stanzas will be inserted here between these two. This means that the third page comes before the "We sat with dreams..." stanza, which closes the poem. The arrangement of the poem would then be:
1- Page 1
2- Page 2, till the horizontal line
3- Page 3
4- Last stanza of page 2 ("We sat with dreams...")
The lyrics above follow that order.
It should be noted that the It's Only Rock 'N Roll notes (see section below) erroneously state that "The final verse of the three-page poem contains lyrics that Springsteen would later use for his 1969 Child-Steel Mill song, Resurrection".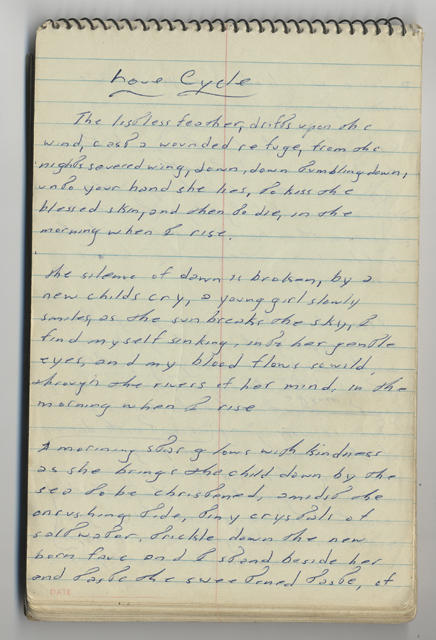 LOVE CYCLE handwritten lyrics from Bruce Springsteen's 1968 lyrics notebook (page 1)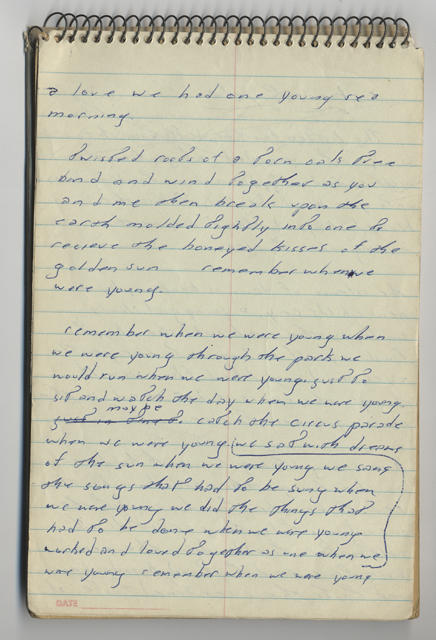 LOVE CYCLE handwritten lyrics from Bruce Springsteen's 1968 lyrics notebook (page 2)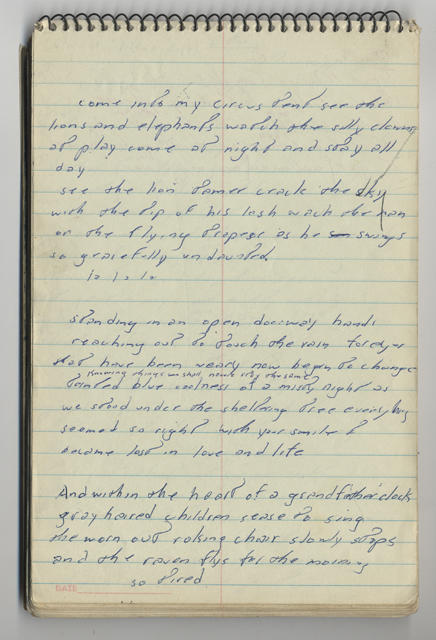 LOVE CYCLE handwritten lyrics from Bruce Springsteen's 1968 lyrics notebook (page 3)
The 1968 Lyrics Notebook
A handful of Bruce Springsteen handwritten lyrics sheets and setlists were made public for the first time in June 2006 thanks to an It's Only Rock 'N Roll online auction. The highlight of the auction was a Springsteen spiral notebook of never before published collection of 20 handwritten lyrics from 1968: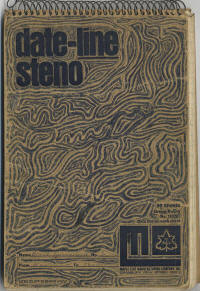 Bruce Springsteen 1968 lyrics notebook (front cover)
The first page of the notebook is a "contents page" listing the first 15 songs.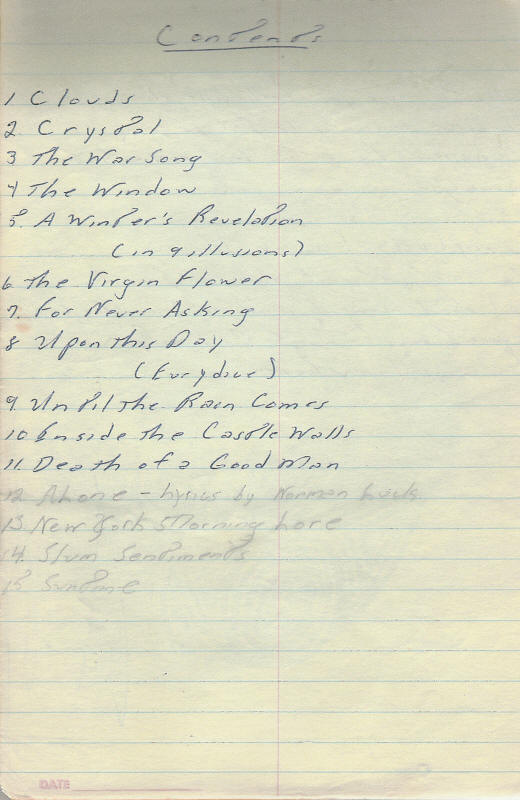 Bruce Springsteen 1968 lyrics notebook (contents page)
Songs #1 to #4 were transcribed on 26 Apr 1968. Songs #5 to #7 were transcribed on 29 Apr 1968. Songs #8 to #11 were transcribed on 30 Apr 1968. These songs (#1 to #11) appear to have been transcribed into the notebook in a tidy fashion in three batches over a period of five days – same pen and writing style. These are likely to represent writings that Springsteen had accumulated over some time in late 1967 or early 1968, and then shifted into the newly purchased notebook.
There is no transcription date noted for songs #12 to #15. The writing style is more rushed and multiple pens have been utilized (both on the individual songs and in the "Contents Page" listing). These 4 songs may have been transcribed at separate times into the notebook over a more scattered timeframe after April 1968 (perhaps summer or fall 1968).
Songs #16 to #20 are undated and show much more "work-in-progress" characteristics. Various pens were used. These are likely to date from fall 1968 to late 1968 to possibly (in the case of #19 and #20) the early months of 1969.
Song #17: This untitled page seems to be too short to be a completed song, and is most probably just a work-in-progress idea.
Song #20: This untitled page appears to be merely a "lyrics ideas" sheet, with no song really formulated yet.
It certainly appears that the notebook, in total, contains Springsteen writings spanning the entire year of 1968. Several of the first 15 song titles (or slight variations of these titles), and particularly those from the first batch of 11 titles in the book, have been known about (in vague terms) for many years via the recollections of some people who actually saw Springsteen play solo at the time – including unpublished interview comments by the late Curt Fluhr of The Castiles.
Jeannie Clark Fisher, who opened for The Castiles in mid-1968 at Off Broad Street Coffee House in Red Bank, NJ, recalled several of the song titles years ago and has recalled that Springsteen had a repertoire of about 10-20 self-penned songs at the time. But nobody had ever seen any setlist or lyrics or audio to back up Jeannie's (or others') memory. For this reason, this notebook is such an important historical find.
Norman Luck, co-writer of ALONE, vaguely recalls some of the other song titles in the notebook, and recalls them as being from the late 1967 to spring 1968 period.
According to Brucebase, the first 15 of the above songs were performed in mid-1968 at The Off Broad Street Coffee House in Red Bank, NJ, which opened in May 1968 to cater for the acoustic orientated, singer/songwriter music scene taking hold in the area at the time. The club also hired rock bands and provided open mike and hoot nights for aspiring talent of all types. Springsteen is known to have given several solo performances at the club during the period between May and October 1968. These performances included an array of folk-orientated songs Springsteen had written in recent months – material that didn't fit into the rock setlists performed by The Castiles (and later Earth). These 15 songs represent most of Springsteen's original solo-oriented music repertoire played at these shows during May-Aug 1968.
For additional information, read below the notes about this notebook as published on the It's Only Rock 'N Roll auction page. Note that there are some minor mistakes and inaccuracies.
1967-68. ItsOnlyRockNRoll.com is thrilled to be given the opportunity of offering for the very first time anywhere an item of unparalleled historical importance in the musical life of Bruce Springsteen; a never before published collection of handwritten lyrics by the then 18-year-old, aspiring future rock icon.

After being given a sneak peek at this treasure trove of writings, the definitive Springsteen website, BRUCEBASE, declared "It's an absolutely fascinating document of a period that we know very little about.!" Indeed, the discovery of these songs, most assuredly, can be viewed as the "missing ink" in Springsteen's transition from being a musician relentlessly honing his musicianship in a "cover" band to his development as a songwriter. The notebook can be divided into two sections; the first containing 15 songs spread over 17 double-sided pages and, the second, an additional three songs and a poem spread over four double-sided pages. Three examples of Springsteen's maze-like artwork are seen on both sides of the front cover and on the back cover of this spriral notebook. If one focuses closely, a smiling face comes into view on one.

Although Springsteen wrote and played a few of his own songs during his 1965-67 tenure in The Castiles, the group played mostly cover versions of other artists songs. However, in late 1967 The Castiles landed a series of gigs at the Café Wha? in Greenwich Village in NYC – smack in the heart of a blossoming singer-songwriter folk scene. It was during this period that Springsteen first began to seriously focus on writing his own songs. This group of 15 Springsteen compositions, one of which ["Alone"] was co-written by Springsteen and Norman Luck, emanate from the autumn 1967 to spring 1968 period. The date of transcription of the songs is noted as 26 Apr 1968. These are complete, final and titled lyrics sheets, all in Springsteen's handwriting. And 13 of the 15 songs even include the musical chord progressions.

By April 1968, The Castiles were undergoing changes. Some band members were going off to college and it was clear the band would likely fold during the summer. In May 1968, a small folk-orientated haunt opened in Red Bank called the Off Broad Street Coffeehouse. Springsteen began giving unadvertised, later advertised, acoustic solo performances which included his new, self-penned songs.

This group of 15 songs represents the core Springsteen repertoire of his legendary May-Nov 1968 solo gigs at The Off Broad Street. Indeed, if Bruce could have released a solo acoustic album in mid-1968, these are the songs that are likely to have made up that album.

The stylistic influence of poet-songwriters Tim Buckley and Leonard Cohen are clearly evident in these Springsteen compositions. What is remarkable about this group of songs is that they far more resemble the lengthy, sophisticated lyricism of Springsteen's 1972 CBS solo demos ("Song To Orphans", "Visitation At Fort Horn", "The Angel", etc.) than they do of Bruce's less lyrical progressive Rock songwriting efforts of the 1969-1971 period with Steel Mill, Dr Zoom and The Bruce Springsteen Band.

The 15 songs, all Springsteen originals, are written out by Springsteen on a "Contents" page. The songs are: "Clouds", "Crystal", "The War Song", "The Window", "Winter's Revelation (In 9 Illusions)", "The Virgin Flower", "For Never Asking", "Upon This Day", "Until The Rain Comes", "Inside The Castle Walls", "Death Of A Good Man", "Alone", "New York Morning Love", "Slum Sentiments", "Sunline". This group of 15 lyrics is a truly major historical find. While it is reasonable to conclude that Springsteen may have taped acoustic accompanied versions of these songs for his own reference, it is highly unlikely that full band versions were ever performed or recorded. No such recordings have surfaced to date.

The second section of this remarkable collection includes a poem and three additional songs:
"Love Cycle": A poem from mid-late 1968, not a song. The opening three words "The Listless feather" are the very same words used to open Springsteen's late 1968 poem, "My Lady", that was published in the Ocean County College Literary Yearbook in January '69. The final verse of the three-page poem contains lyrics that Springsteen would later use for his 1969 Child-Steel Mill song, "Resurrection".
"MISSISSIPPI": From the late 1968 EARTH era or 1969 CHILD era. There are 7 verses that make up the song (noted as 1 thru 7) and then it seems Springsteen has used the bottom of the second page to jot down some lyrical ideas for an untitled work-in-progess song.
"UNTITLED" (but is actually "The Wind And The Rain"); a near final draft probably from 1969 of the lyrics to the Steel Mill song.
"UNTITLED" Seemingly an incomplete, early starting draft (only one verse), but with chord progressions, of a song that might be eventually have been titled "Jesus, Mary & Joseph". Again this appears to be late 1968 or early 1969 time frame.

The notebook has been in our consignor's safety deposit box ever since he acquired it from former Springsteen roadie, Mike Batlin, during the late 1980s.
The bid on the notebook started at $5,000.00 and reached $57,706.61. The auction also included many other lyrics sheets and setlists from the late '60s and early '70s, which included additional songs, most of which were also unheard-of: WE'VE GOT TO DO IT NOW, SOMETIMES AT NIGHT, IF YOU WANT TO GET HIGH, OH NO NO NO, SPANISH DREAMS, GYPSY RIDER, SHE'S GOT THE LORD, and others.
The collector who purchased the notebook in the late 1980's never gave out any information about it. So we are lucky that this was a public auction sale, or else we may have never seen the contents.
Credits
Thanks Audio2575 (from Rare Springsteen) for transcribing these lyrics.
Request
If you have any corrections or additional info, please contact me via the below form or by email: . If you own or have access to the above-mentioned spiral notebook, I would be very grateful if you'd send me higher resolution scans. You will be credited, unless you prefer to stay anonymous. Thanks in advance.
Available Versions
List of available versions of LOVE CYCLE on this website:
LOVE CYCLE [Handwritten lyrics]
---
Page last updated: 18 Aug 2010