FREEDOM CADENCE
Official studio version
---
Some say freedom is free, but I tend to disagree
I say freedom is won through the barrel of a gun
Had a brother in Iraq, he didn't come back
I ask why oh why do soldiers gotta die
Some say freedom is free, but I tend to disagree
I say freedom is won through the blood of someone's son

Some say freedom is free, but I tend to disagree
I say freedom is won through the barrel of a gun
Daddy died in Vietnam, he was killed at Khe Sahn
I ask why oh why do soldiers gotta die
Some say freedom is free, but I tend to disagree
I say freedom is won through the blood of someone's son

Some say freedom is free, but I tend to disagree
I say freedom is won through the barrel of a gun
Had a brother in Iraq, he didn't come back
I ask why oh why do soldiers gotta die

Hmm hmm hmm hmm hmm hmm, hmm hmm hmm hmm hmm hmm
Hmm hmm hmm hmm hmm hmm, hmm hmm hmm hmm hmm hmm
Hmm hmm hmm hmm hmm hmm, hmm hmm hmm hmm hmm hmm
Hmm hmm hmm hmm hmm hmm, hmm hmm hmm hmm hmm hmm

Hmm hmm hmm hmm hmm hmm, hmm hmm hmm hmm hmm hmm
Hmm hmm hmm hmm hmm hmm, hmm hmm hmm hmm hmm hmm
Hmm hmm hmm hmm hmm hmm, hmm hmm hmm hmm hmm hmm
Hmm hmm hmm hmm hmm hmm, hmm hmm hmm hmm hmm hmm
---
Info
FREEDOM CADENCE is a song written by Bruce Springsteen for the 2017 film Thank You For Your Service. It's adapted from the military cadence SOME SAY FREEDOM IS FREE, credited to PFC Roger L. Southard.
The film drama is based on the real-life experiences of Iraq War veteran Adam Schumann. In an interview with Steve Prokopy for the Third Coast Review, Schumann explained that it was producer Jon Kilik who got Bruce Springsteen to do a new song for the movie. "Adam [Schumann] had a cadence that they sang in boot camp, and Jon [Kilik] recorded him singing it on his cell phone," director Jason Hall explained. "Jon is friends with Bruce and played it for him. Bruce was like, 'Oh, that's cool. How'd the movie turn out?' 'Movie turned out great.' We played him the movie. Bruce loved it, watched it twice, and then said, 'Send me that recording, come back in a month, and bring that kid.' So Adam went up there with Jon and recorded the song with him."
Track Credits
According to the closing credits of the film Thank You For Your Service:
"Freedom Cadence"
Arranged, Adapted and Performed by Bruce Springsteen
Courtesy of Columbia Records
By Arrangement with Sony Music Licensing
Published by Bruce Springsteen (Global Music Rights)
Produced by Ron Aniello and Bruce Springsteen
Production Coordinator: Toby Scott
Recorded at: Stone Hill Studio, NJ
Engineered by: Robert Lebret, Ron Aniello
Mixed at: Mix This! LA, CA
Mixed by: Bob Clearmountain assisted by Sergio Ruelas Jr.
Bruce Springsteen: Lead Vocal, Harmonium, Banjo, Electric Keyboards, Piano, Junk Stick
Ron Aniello: Drum Loops, Electric Keyboards
Background Vocals: Bruce Springsteen, Ron Aniello, Jon Kilik, Adam Schumann

Live History
As far as it's known, Bruce Springsteen has never performed FREEDOM CADENCE live.
Appearance in Movies
Bruce Springsteen's official studio version of FREEDOM CADENCE appears in one movie.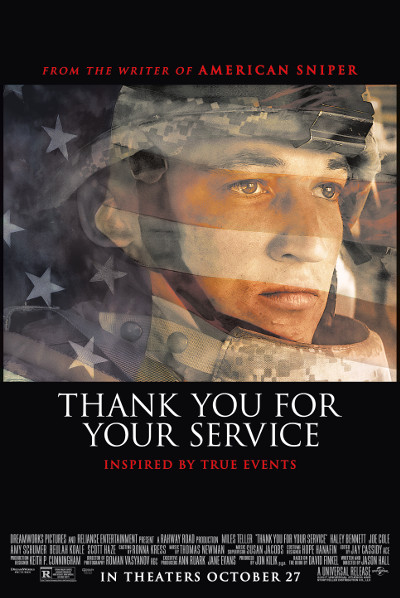 It was used in the 2017 film Thank You For Your Service, directed by Jason Hall and starring Miles Teller. The song was not included in the film's soundtrack album.

The song plays over the film's closing credits.

Available Versions
List of available versions of FREEDOM CADENCE on this website:
FREEDOM CADENCE [Official studio version]
---
Page last updated: 15 Jan 2018