BEDROCK RAP / MEET THE FLINTSTONES
Bruce Springstone's version
---
Ah ah ah ah ah ah ah ah

[Spoken:]
I remember, I remember when I was just a kid
Growin' up on them backstreets, in an old stone-age town
I used to come home at night from my job, I had a job flippin' dino burgers
I see the quarry, it'd be just closing down by then
Little bird up on the pole, he's screaming out how the working day's over
And I'd see them dinosaurs, they'd be herding out through the gates
And the workers, they'd be giving them cars a running start with their fat little feet
Now, so, so one night I'm crossing the alley and I see this one worker coming home to his little stone hut
And I seen the lady's lunch pail by the door, and he calls out to his wife, "hey Wilma! I'm home, honey"

Wiilllmaa!!!

Flintstones, meet the Flintstones
Well they're the modern stone-age family
From the town of Bedrock
Well, they're a page right out of history

Well let's ride with the family down the street.
Through the courtesy of Fred's two feet

When you're with the Flintstones
we'll have a yabba dabba doo time.
A dabba doo time
We'll have a gay old time, a gay old time
Wilma!

[sax solo]

Huh!
Whoaaaaahhhh!!!
---
Info
BEDROCK RAP / MEET THE FLINTSTONES is a song parodying Bruce Springsteen singing The Flintstones theme. The song was recorded by Bruce Springstone, a group created specifically for a Bruce Springsteen parody project. The "Bedrock Rap" portion (the spoken part) is a Springsteen concert-like intro written by Craig Hankin and Tom Chalkley. The "Meet The Flintstones" portion (the sung part) is the theme song for the famous animated series The Flintstones (1960 to 1966), and is written by William Hanna, Joseph Barbera, and Hoyt S. Curtin. BEDROCK RAP / MEET THE FLINTSTONES was released on the A-side of Bruce Springstone's 1982 single Live At Bedrock. A Bruce Springstone version of TAKE ME OUT TO THE BALL GAME was released on the B-side.
The above lyrics are for Bruce Springstone's studio version of BEDROCK RAP / MEET THE FLINTSTONES as released in 1982.
Bruce Springstone
Bruce Springstone was created in the spring of 1982 by Baltimore's Tom Chalkley (cartoonist, singer-songwriter, and blues harpist) and Craig Hankin (painter, writer, and rhythm guitarist). The idea came at a party on St. Patrick's Day, during which Chalkley was singing TV show theme songs in the style of Bruce Springsteen. "Everybody hit the deck laughing," Hankin recalls told The Baltimore Sun in November 2009. "We thought, 'Oh, this is a funny idea.'" But the show stopper was Chalkley's Springsteen impression doing a rocked-up version of The Flintstones theme song, MEET THE FLINTSTONES. Keyboardist Suzy Shaw wrote in Backstreets magazine (issue #48, Winter 1995) that two DJs in the audience encouraged Chalkley and Hankin to record the song, and said that they'd play it one air.
Chalkley and Hankin were convinced that they should cut a record. They took the recording to Clean Cuts, a local record label then known for its jazz recordings, and played it for label owner Jack Heyrman. "[Heyrman] let me know a one-off novelty single was not exactly up his alley, but he was willing to listen," Hankin told The Baltimore Sun. "By the time we got to the end of the tape, he was chuckling. He said, 'I think we may have a novelty record here.'" Hankin discovered an original lyrics and music sheet to TAKE ME OUT TO THE BALL GAME, and they decided to record a Springsteen-style version of it for the B-side.
Record companies consider singles to be nothing but promotional tools for albums, and album sales is where the money's at. So naturally, Clean Cuts wanted an album as part of the deal. "We were dubious, however, as we considered the Springsteen parody to be a one-line joke that would not bear many repetitions," Suzy Shaw wrote in Backstreets. She told Craig Hankin, "Who would want to listen to an entire album of Bruce Springstone?" Hankin liked the name, and so the character came by that name.
Chalkley and Hankin recruited drummer and painter John Ebersbergr and keyboardist and comics scholar Suzy Shaw to record with them at Hit And Run Studios in Rockville, MD. The affordable studio was operated by an 18-year-old in the basement of the parents' house. They spent 16 hours over a weekend in June 1982 cutting the record. Clean Cuts owner Jack Heyrman, who also produced the record, decided that they needed good saxophone so that it sounds like a Springsteen record, and so veteran jazz saxophonist Ron Holloway was hired. Craig Hankin wasn't confident enough of his own lead guitar, so he invited in Tommy Keene, who had just gotten his first record deal. Gabor Lutor was also hired to play bass. The tracks were arranged by Craig Hankin and Tom Chalkley, produced by Jack Heyrman, and engineered by Steve Carr at Hit & Run Studios. Tom Chalkley wrote three other songs for Bruce Springstone – "Cave Girl", "Ugga Bugga", and an unfinished "I'm On Ice" – but none of them made it to record under Bruce Springstone.
The Bruce Springstone: Live At Bedrock single was released in September 1982 on Clean Cuts Records, just one week after Bruce Springsteen's Nebraska album was released. Even though there was no advertising at all, the single was an instant hit and was spun on hundreds of radio stations in the U.S. and abroad. Upon it's release, many rock and college radio stations played the record, fooling their audiences who though that it was a new Springsteen record. The Washington Post reported that "when a Philadelphia station played it after simply announcing, 'Now the record you've all been waiting for,' the phones lit up for hours, with fans arguing whether it really was the Boss or not."
The single's front cover art is by John Ebersbergr and the back cover art is by Tom Chalkley. The front cover is a parody of the Born To Run album, picturing Flintstones characters Fred Flintstone and pet dinosaur Dino as Bruce Springsteen and Clarence Clemons. Cartoon creators and producers William Hanna and Joseph Barbera had a problem. They approved the use of MEET THE FLINTSTONES, but they were against the sleeve artwork because they felt the cover art infringed on their trademarked images. After 35,000 copies of the single have been sold, Hanna and Barbera pulled the plug with a cease-and-desist order. The single would sell 100,000 copies taking into account the song's appearance on several Rhino Records collections.
MTV, which was just getting started, approached Bruce Springstone about making a music video for BEDROCK RAP / MEET THE FLINTSTONES. Tom Chalkley and Craig Hankin threw together a storyboard, Jack Heyrman hired a director, and they had costumes made. They filmed the video on 06 Dec 1982 at Genstar quarry outside the Baltimore Beltway in Maryland. Local crew of CBS's Evening Magazine was there filming Bruce Springstone filming their video.
Suzy Shaw wrote in Backstreets that before editing of the video even begun, the marketing people at Hanna-Barbera Productions threatened to sue Clean Cut. Though permission had been given to record The Flintstones theme song, they claimed that Bruce Springstone did not have permission to use the word "Bedrock" and that any cartoon depiction of a dinosaur violated their trademark on Dino. Clean Cuts, fearing to face a corporation as big as Hanna-Barbera Productions, decided to back down. All promotions for the record were stopped, production of picture sleeves was halted, and the music video didn't go anywhere. "It was the most expensive home video ever made," Hankin told The Baltimore Sun.
Several years later, wanting to know for sure if Bruce Springsteen has ever heard their record, Craig Hankin sent him a letter with a self-addressed stamped envelope telling him that they meant no disrespect and that they considered that what they had done to be a very loving and admiring tribute. Hankin didn't hear anything for a long time and forgot all about it until one day he received a postcard written and addressed in Springsteen's hand: "The record is great! I love it! Keep on rockin! Bruce Springsteen."
Official Releases
The Live At Bedrock single was released in 1982 and is now out of print. Both the A-side and the B–side can now be found on some Rhino Records various artists compilation albums.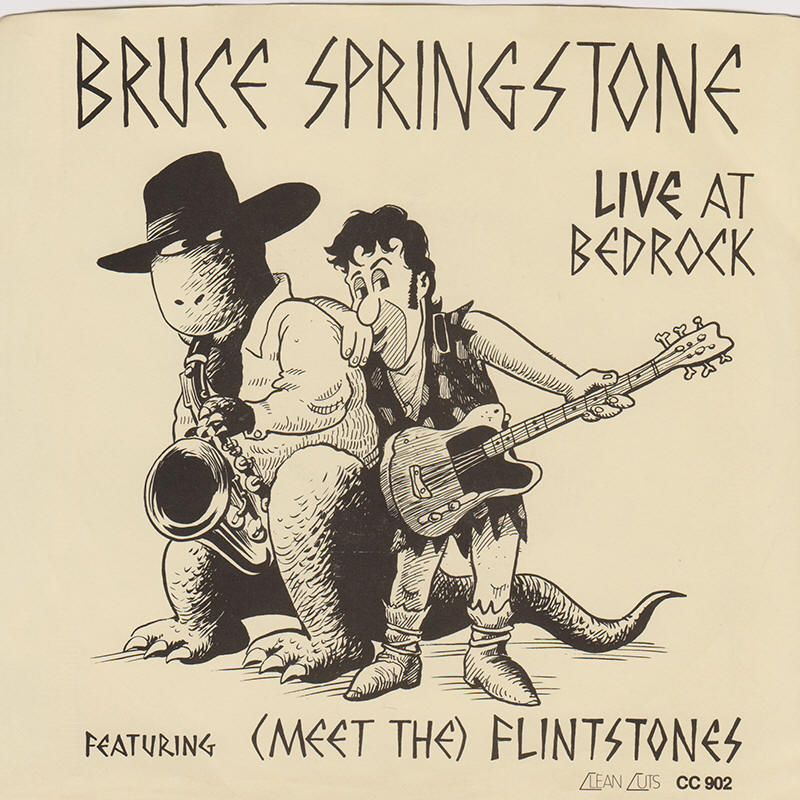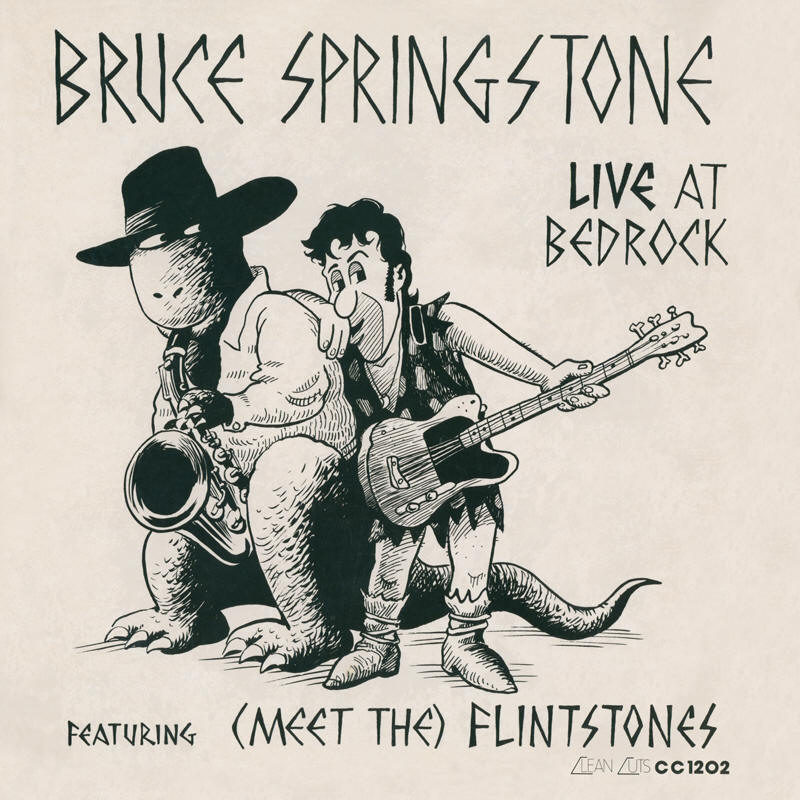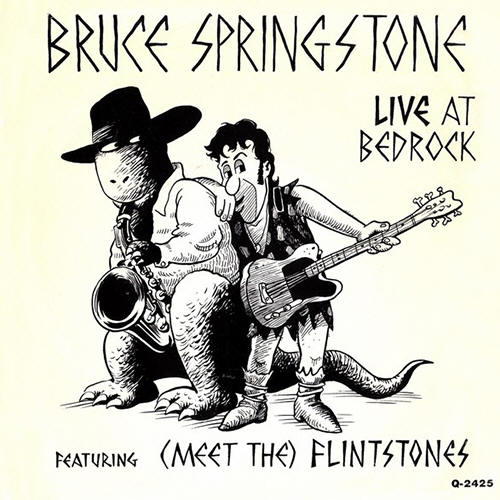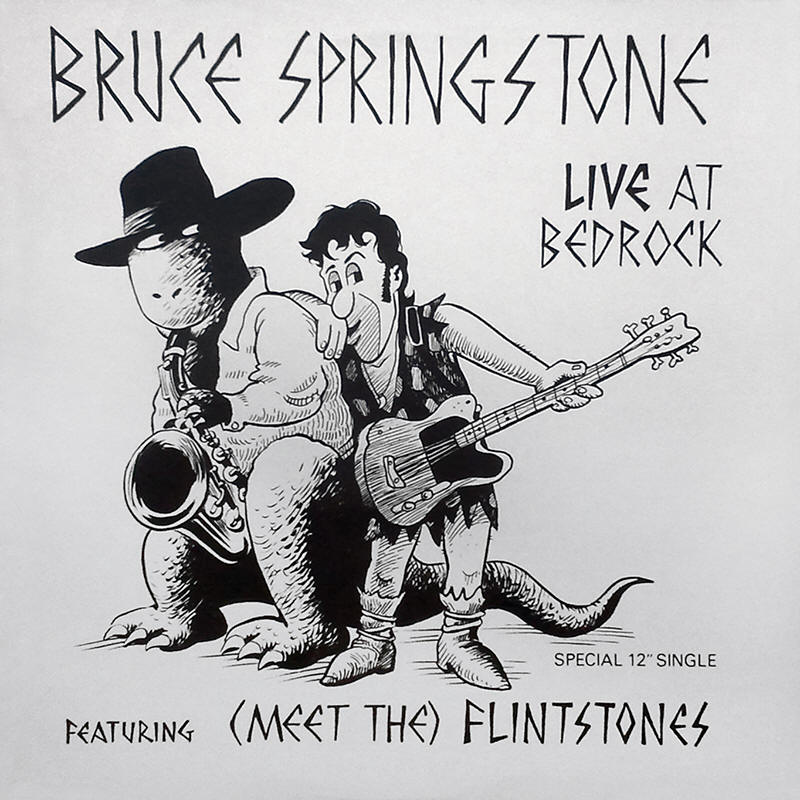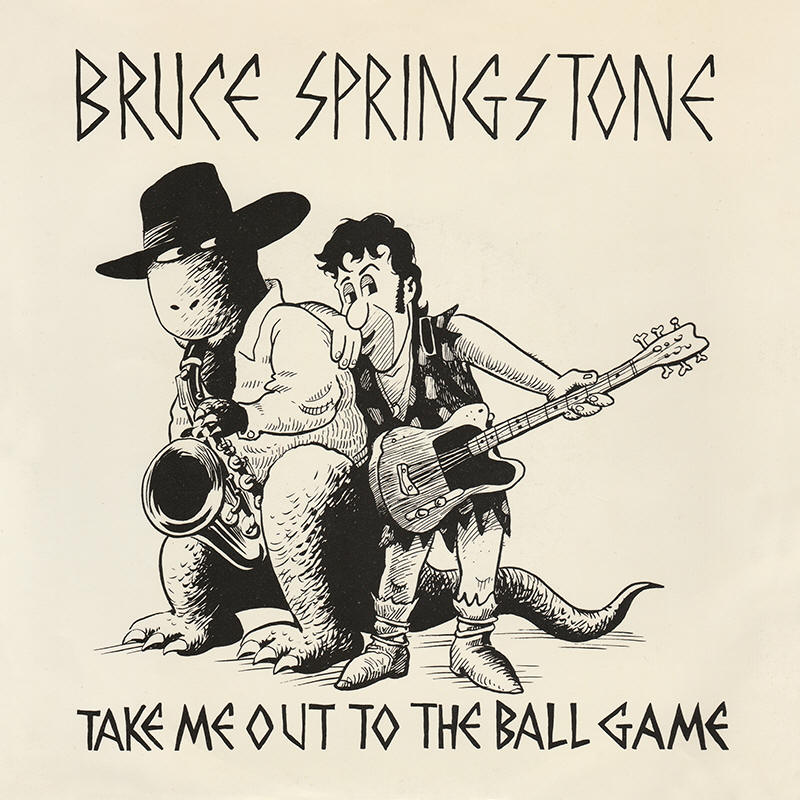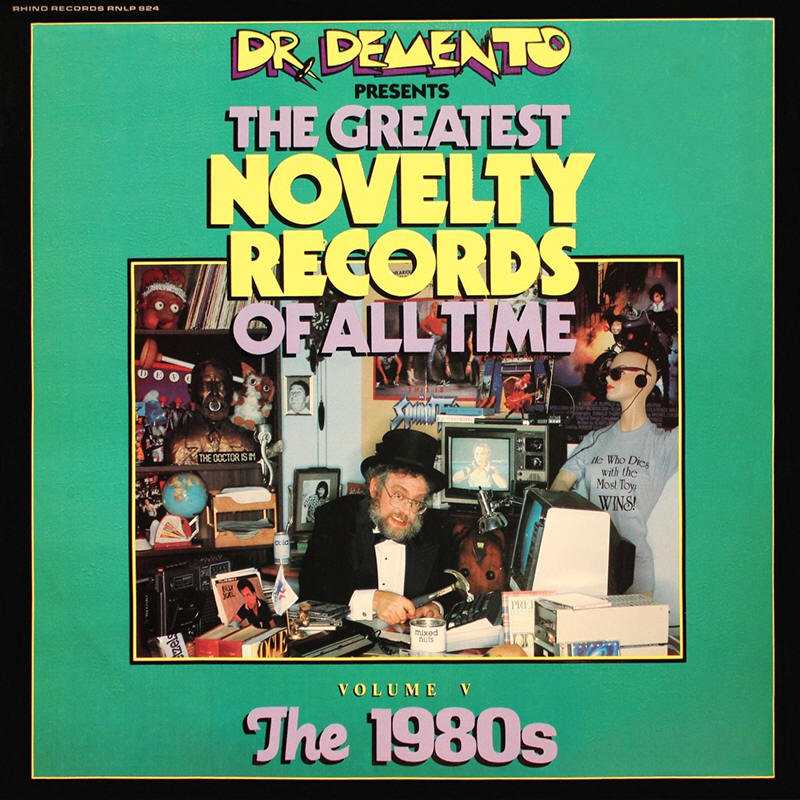 Various artists -- Dr. Demento Presents the Greatest Novelty Records of All Time, Volume V: The 1980s

LP - Rhino (RNLP 824) - USA, 1985
Cassette - Rhino (RNC 824) - USA, 1985

This was also released as part of a limited edition 6-LP box set, which contains Volume I: The 1940s (And Before), Volume II: The 1950s, Volume III: The 1960s, Volume IV: The 1970s, Volume V: The 1980s, and Volume VI: Christmas.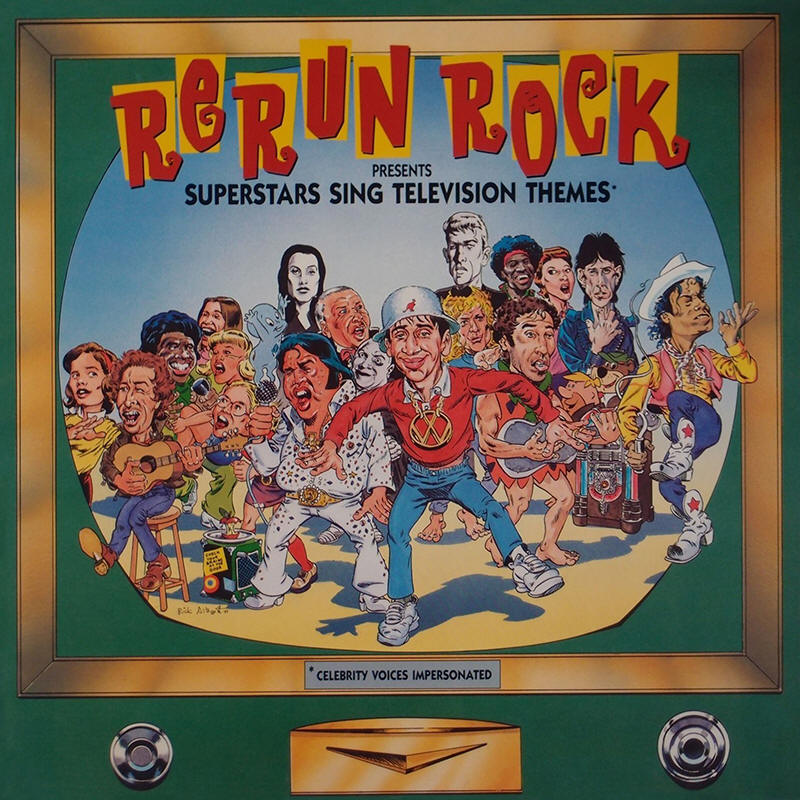 Various artists -- Rerun Rock

LP - Rhino (R1 70199) - USA, 1989
CD - Rhino (R2 70199) - USA, 1995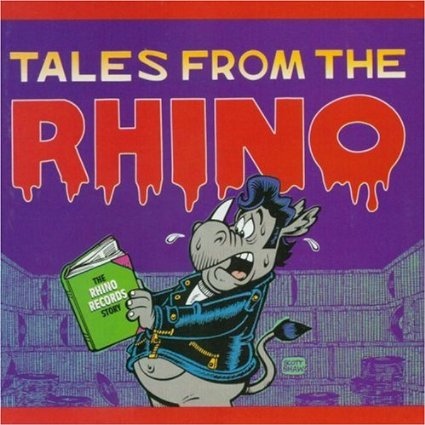 Various artists -- Tales From The Rhino: The Rhino Records Story
2-CD - Rhino (R2 71759) - USA, 1994
This album also includes Big Daddy's cover version of Bruce Springsteen's
DANCING IN THE DARK
.
Credits
Thanks Jake (ol'catfishinthelake at BTX and Greasy Lake) for the lyrics help.
Request
Please contact me if you have scans for or info about any official release containing Bruce Springsteen's BEDROCK RAP / MEET THE FLINTSTONES that's not mentioned on this page. Any additions, comments, or corrections to this page are welcome. You can contact me via the below form or by email: . You will be credited. Thanks in advance.
Available Versions
List of available versions of BEDROCK RAP / MEET THE FLINTSTONES on this website:
BEDROCK RAP / MEET THE FLINTSTONES [Bruce Springstone's version]
---
Page last updated: 27 Jun 2016