4TH OF JULY, ASBURY PARK (SANDY)
Live 31 Oct 1973 (late show) version
---
[Spoken intro:] (recording cut) ...he said, "Tell you in the music business, soon as you put, soon as you put your name down on that paper, right, go up." Like, I went into Columbia, and you go in the elevator, right, and, and they take you up, you see the clouds passing you by, and you walk out, and there's all these cats in white robes. No, no, I'm not jiving you now, they're, they're all up there, all the presidents, are all up there in these, in these long white robes. And with the, the contract with the little gold B, and they say, "Sign here, son." (chuckles) And first thing they did is say, "Hit 'em in their hearts, write, write a love song." So, so this song is about, uh, 'bout, sorta 'bout Asbury Park, which is, is about an hour and a half west of here, as the, the duck flies, and, uh, last year, before, before we had any jobs, we didn't get jobs this year, but last year, uh, I was just letting it be. (chuckles) We'd hang, hang out around the boardwalk, and, uh, and this is sort of, uh, I've been trying to get CBS to put me on TV in the afternoon. I want to get, I wanna do a soap opera, right? For a week, but, uh, I need to talk to Gary[?] and Levison[?] about that. There's a spider on my leg. (chuckles) There you go.

Sandy, the fireworks are hailin' over Little Eden tonight
Forcin' a light into all those stony faces left stranded on this fourth of July
Down in town the street's are full with switchblade lovers, so fast, so shiny, dressed so sharp
And them wizards play down on Pinball Way on the boardwalk way past dark
And the boys from the casino dance with their shirts open like Latin lovers along the shore
Chasin' all them silly New York virgins by the score

Whoa, Sandy, the aurora is rising behind us
This pier lights our carnival life forever
Oh, love me tonight, 'cause I may never see you again
Whoa, Sandy, girl
My, my baby

Now the greasers, they tramp the streets or get busted for trying to sleep on the beach at night
Ah, them boys in their high heels, ah, Sandy, their skins are so white
And me, I just got tired of hangin' in them dusty arcades and bangin' them pleasure machines
Chasin' the factory girls underneath the boardwalk, where they all promise to unsnap their jeans
And you know that tilt-a-whirl down on the south beach drag
I got on it last night and my shirt got caught
That Joey kept me spinnin'
No, he wouldn't let me off

Oh, and Sandy, the aurora is rising behind us, girl
Oh, this pier lights our carnival life on the water
Ah, running, laughing 'neath the boardwalk with the boss's daughter
I remember, Sandy, girl
Na, na, baby

Well, now, Sandy, that little waitress I was seeing says she lost her desire for me
You know, I spoke with her last night, she said she won't set herself on fire for me anymore
She worked that joint underneath the boardwalk, you know she was always the girl you saw boppin' down the beach with the radio
The kids say last night she was dressed like a star in one of them cheap little seaside bars, and I saw her parked with lover boy out on the Kokomo
Did you hear the cops finally busted Madame Marie for tellin' fortunes better than they do
For me this boardwalk life is through
Ah, you know, you ought to quit this scene too

Yeah, Sandy, the aurora is rising behind us, girl
Oh, the pier lights our carnival life forever
Love me tonight and I promise I'll love you forever
I mean it, Sandy, girl
My, my, my, my, my, baby, yeah
Oh, I swear it, Sandy, girl
Sha, na, na, na, na, na, baby
Oh, Sandy

[SPOKEN][Spoken outro:] Oh, oh, yes, that's Danny Federici on the accordion. Ah.[SPOKEN]
---
Info
The above lyrics are for the live 31 Oct 1973 (late show) performance of 4TH OF JULY, ASBURY PARK (SANDY) at The Main Point in Bryn Mawr, PA, during what is considered The Wild, The Innocent, & The E Street Shuffle Tour. The song was performed in an acoustic arrangement with Bruce Springsteen on guitar and Danny Federici on accordion, just like during the Greetings From Asbury Park, N.J. Tour.
Bruce Springsteen performed three nights, two shows each night, at The Main Point between 29 and 31 Oct 1973. He was the headliner and local acoustic trio Wire And Wood were the opening act. This version of 4TH OF JULY, ASBURY PARK (SANDY) is from a circulating 13-song audience tape that is believed to be the late 31 Oct 1973 show.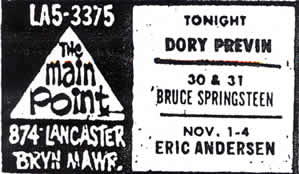 Promotional ad for the 30 and 31 Oct 1973 shows at The Main Point, Bryn Mawr, PA
(
Taken from Brucebase
)
Credits / References
Thanks Jake (ol'catfishinthelake at BTX and Greasy Lake). Most of the above info about Springsteen's 3-night residency at The Main Point is taken from Brucebase.
Available Versions
List of available versions of 4TH OF JULY, ASBURY PARK (SANDY) on this website:
4TH OF JULY, ASBURY PARK (SANDY) [Album version]
4TH OF JULY, ASBURY PARK (SANDY) [Original studio version]
4TH OF JULY, ASBURY PARK (SANDY) [Early draft]
4TH OF JULY, ASBURY PARK (SANDY) [Live 23 Jul 1973 (early show) version]
4TH OF JULY, ASBURY PARK (SANDY) [Live 31 Jul 1973 (late show) version]
4TH OF JULY, ASBURY PARK (SANDY) [Live 31 Oct 1973 (late show) version]
4TH OF JULY, ASBURY PARK (SANDY) [Live 03 Mar 1974 (late show) version]
4TH OF JULY, ASBURY PARK (SANDY) [Live 09 Apr 1974 version]
4TH OF JULY, ASBURY PARK (SANDY) [Live 29 Oct 1974 version]
4TH OF JULY, ASBURY PARK (SANDY) [Live 05 Feb 1975 version]
4TH OF JULY, ASBURY PARK (SANDY) [Live 02 Oct 1975 version]
4TH OF JULY, ASBURY PARK (SANDY) [Live 18 Nov 1975 version]
4TH OF JULY, ASBURY PARK (SANDY) [Live 31 Dec 1975 version]
4TH OF JULY, ASBURY PARK (SANDY) [Live 07 Apr 1976 version]
4TH OF JULY, ASBURY PARK (SANDY) [Live 04 Nov 1976 version]
4TH OF JULY, ASBURY PARK (SANDY) [Live 09 Aug 1978 version]
4TH OF JULY, ASBURY PARK (SANDY) [Live 29 Dec 1980 version]
4TH OF JULY, ASBURY PARK (SANDY) [Live 31 Dec 1980 version]
4TH OF JULY, ASBURY PARK (SANDY) [Live 30 Jul 1992 version]
4TH OF JULY, ASBURY PARK (SANDY) [Live 10 Aug 1992 version]
4TH OF JULY, ASBURY PARK (SANDY) [Live 24 Nov 1996 version]
4TH OF JULY, ASBURY PARK (SANDY) [Live 26 Nov 1996 version]
4TH OF JULY, ASBURY PARK (SANDY) [Live 15 Feb 1997 version]
4TH OF JULY, ASBURY PARK (SANDY) [Live 11 Aug 1999 version]
4TH OF JULY, ASBURY PARK (SANDY) [Live 12 May 2003 version]
4TH OF JULY, ASBURY PARK (SANDY) [Live 18 Jul 2005 version]
4TH OF JULY, ASBURY PARK (SANDY) [Live 20 Mar 2008 version]
4TH OF JULY, ASBURY PARK (SANDY) [Live 22 Apr 2008 version]
4TH OF JULY, ASBURY PARK (SANDY) [Live 04 Jul 2008 version]
4TH OF JULY, ASBURY PARK (SANDY) [Live 30 Aug 2008 version]
4TH OF JULY, ASBURY PARK (SANDY) [Live 07 Nov 2009 version]
4TH OF JULY, ASBURY PARK (SANDY) [Live 23 Feb 2014 version]
4TH OF JULY, ASBURY PARK (SANDY) [The Hollies' cover version]
4TH OF JULY, ASBURY PARK (SANDY) [Ben E. King's cover version]
---
Page last updated: 06 Nov 2011